EYFS Curriculum Overview
The Early Years Foundation Stage (EYFS) forms the basis of your child's school life. It is here where foundations are laid in a secure, consistent and caring environment taking account of their age and their previous experience. Our aim is to ensure that your child settles happily into school and that they feel secure within the learning environment.
As your child starts on their school journey we strive to foster a questioning approach and a love of learning. Your child will experience stimulating and exciting learning opportunities and be encouraged to grow in independence and confidence. They will also begin to learn the skills needed to be successful lifelong learners.
Children learn best when school and homework together in the best interests of the child. It is time, support and commitment that your child and the school need to ensure your child gets the best from their time at Windhill21.
The Early Years Curriculum is organised into three prime areas and four specific areas of learning. The prime areas of learning are the roots that need to be modelled and rehearsed in order for the skills to be transferable to the specific areas of learning. The Foundation Stage staff plan the learning environment, activities, and experiences to ensure all children flourish and all areas of the curriculum are covered.
The Early Years Curriculum has also been carefully crafted to ensure that knowledge is build on in Year 1 this can be shown in the subject progression maps.
| Prime Areas of Learning | Specific Areas of Learning |
| --- | --- |
| Communication and Language | Literacy |
| Physical Development | Mathematics |
| Personal, Social and Emotional Development | Understanding the World |
| | Expressive Arts and Design |
The Foundation staff also record your child's development against the Characteristics of Effective Learning. This is the ways in which your child engages with other people and the environment. They are broken down into three main areas:
1.) Engagement 2.) Motivation 3.) Thinking
They underpin learning and development across all areas and support your child to remain an effective and motivated learner.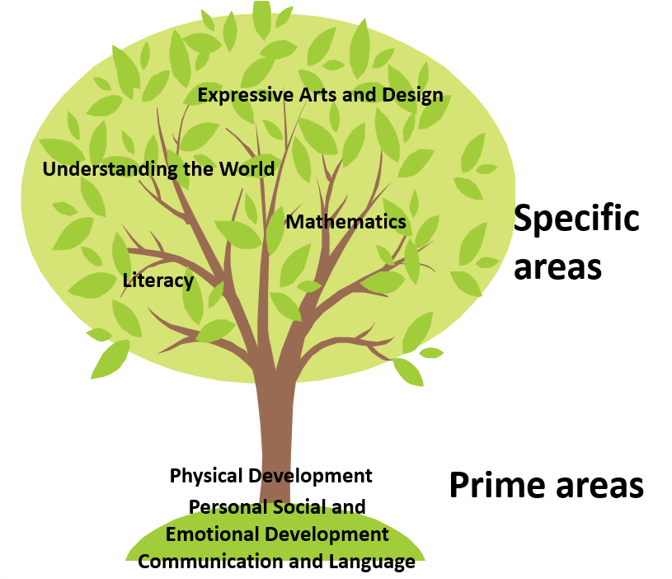 COOL TIME - Carry On Our Learning
A typical day in Early Years is broken into adult directed learning and child initiated play. During child-initiated play the children can freely access the classroom, choosing what to play with and how to play with it. Alongside this adults provide and model additional activities to extend the children's learning that they have previously been exposed to or that targets the child's own personal next steps in learning. At Windhill21 we call child-initiated play "COOL" time because we are "Carrying On Our Learning."